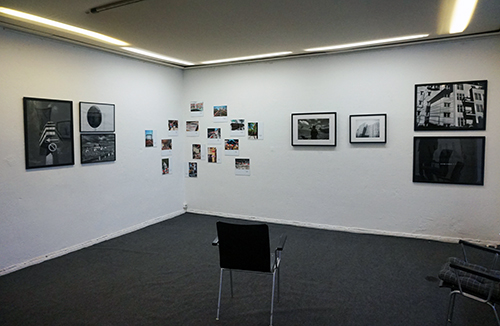 Fluctus ist der Auftakt unserer vierteiligen Reihe "am anderen Ort". Der Titel impliziert u.a. Bezüge auf politisch-gesellschaftliche Themenbereiche, auch im Hinblick auf die direkte Umgebung. Im Rahmen der Reihe folgen weitere Ausstellungen mit installativen und zeichnerischen Positionen in Berlin. Danach besuchen wir einen anderen Ort und präsentieren eine Auswahl der Arbeiten in Kooperation mit Kunstraum Eulengasse, Frankfurt am Main. Die in Berlin und Sofia lebende Fotografin Dagmar Gester stellt sich in ihrer künstlerischen Arbeit den Themen, die eine Welt im Umbruch mit sich bringt. In ihrer Serie "Nachbilder" fokussiert sie auf die "Zeichen einer bedrohlichen und zunehmend bedrohten Welt" (D.G.). Der Fotograf Matz Müller ist auch Sounddesigner und u.a. Mitbegründer des "Sonnenstudios" ( Motion Picture Service ) in Neukölln. Seine vom Analogen geprägte Bildsprache zeigt, zumeist in s/w , die beiläufige, stille Größe der technischen Organisation des Alltäglichen. Julia Murakamis Werke verstehen sich als visuelle Erkundung einer verloren gegangenen Zeit. Ob festgehalten als bühnenhafte Inszenierung oder Kosmos sonderlicher Mischwesen: Dargeboten werden voyeuristische Einblicke in eine in der Psyche verankerten Welt. Versteckte Referenzen zwischen den Arbeiten und spielerisch eingeflochtene "Cameoauftritte" der Protagonisten verbinden Julia Murakamis Arbeiten zu einem einheitlichen Gesamtwerk. Robert Sokol nutzt die fotografische Darstellung, um die sozialen Realitäten urbaner Verhältnisse sichtbar zu machen. Er fotografiert seine Heimat Berlin-Neukölln, mit ihren Straßen, öffentlichen Plätzen, Geschäften und Cafés. In einigen Werkgruppen seiner Fotografien steht der Mensch im Zentrum. Seine Fotografien, die, oftmals als Momentaufnahme, Passantengruppen oder Einzelne herausgreifen- "die Geisteszustände, die ich aus der Zeitschleife herausziehe" (R.S.) sind für ihn ebenso von Bedeutung wie Millieustudien und essayhafte Abfolge._________________________________________________________________
Cordial invitation to the opening on Friday, 31. 3. 2023 from 7 p.m.
31.3. - 22.4. 2023
Fluctus is the prelude to our four-part series "in another place". The title implies, among other things, references to political-social thematic areas, also with regard to the immediate surroundings. Within the framework of the series, further exhibitions with installation and drawing positions will follow in Berlin. Afterwards, we will visit another location and present a selection of the works in cooperation with Kunstraum Eulengasse, Frankfurt am Main. In her artistic work, the photographer Dagmar Gester, who lives in Berlin and Sofia, confronts the issues that a world in upheaval brings with it. In her series "Nachbilder" she focuses on the "signs of a threatening and increasingly threatened world" (D.G.). The photographer Matz Müller is also a sound designer and, among other things, co-founder of the "Sonnenstudio" ( Motion Picture Service ) in Neukölln. His analogue imagery, mostly in b/w, shows the casual, silent grandeur of the technical organisation of everyday life. Julia Murakami's works see themselves as a visual exploration of a lost time. Whether captured as a stage-like production or a cosmos of strange hybrid beings: What is offered are voyeuristic glimpses into a world anchored in the psyche. Hidden references between the works and playfully interwoven "cameo appearances" by the protagonists connect Julia Murakami's works into a unified body of work. Robert Sokol uses photographic representation to make the social realities of urban conditions visible. He photographs his home in Berlin-Neukölln, with its streets, public squares, shops and cafés. In some groups of his photographs, people are at the centre. His photographs, which, often as snapshots, pick out groups of passers-by or individuals-"the states of mind I pull out of the time loop" (R.S.) are just as important to him as millieustudues and essay-like sequences.