During the last years, Jörg Hasheider worked primarily as a curator, engaged in developing collective and solo projects/exhibitions for established institutions such the German Federal Cultural Foundation and ministries relative to cultural affairs. In the avenue of a solo show at the Galerie Walden, Jörg Hasheider is now presenting his newest series of artist-works.
Here, Jörg Hasheider utilizes and combines accessible natural materials – stones, dried flowers, plants, found sounds – and basic utilitarian industrial objects – food cans, glass, paper – to compose complex sound-visual installations that trigger notions of identity representation, binary code, biological genetics and forms of time memorial. In the presented works – an ensemble of pressed flowers compositions, objects assemblages and sound-visual installations; one of which involves a comprehensive color/sound installation of tin cans that intertwines plant/nature sounds, – Hasheider judiciously transforms these raw materials from their standard context, and regenerates their former aesthetic and formal qualities into potential vehicles for meaning and re-interpretation.
In such, a poetic proposal to make echo, confront and relate the industrial, the digital and the natural.

Prolog X3
Triumphzug der Metadynamik II / Kartenrecht
PULL! / Karen Koltermann
actus mundus / Marius D. Kettler
aus gutem Hause / Jenny Löbert
actus torus~ / Marius D. Kettler
Draußen Attraktionen / Gita Fuori
2000 + 14 photographen / Ira Schneider & friends
cosmic death / panmediale
LOUD LIKE NATURE / Dani Gretscher
Georg Polke
Kunst und Banausen
Nichts außer zeichnungen vol.5
out of area / Peter Boué & Karen Koltermann
no lobby bar / Reinhold Gottwald
Hunter Killer / Antti Pussinen
Sterne
Standort Potsdamer Straße 91 • 2009 - 2012

Waldenclub / Eröffnungen - Karen Koltermann / Prolog
panmediale / Berlin • Hamburg • Kassel
inside outside show / Olivia Pils & Kirsty Kross
"the early worm got the bird" / Marco Riedel
im:rot / Marius D. Kettler
roadshots / HF Coltello
Gala
Jimis Jetlag
Bitte Schön, Bitte Schön / Nicholas Kashian
egosale / Reinhold Gottwald
LANDGANG / Frank Diersch
out of structure
waiting in the wings
einsilbig ist dreisilbig / Alexander Krohn
warten auf rot / Marius D. Kettler
formal - normal / Vfl - Trio
Border Country / James Clancy
fnord scripted reality / Stefan Picker
self scripted realities/ Eggermann, Boettger, Picker
Megumi Fukuda
bonobo / Frank Diersch & Henrik Jacob
die Hamburger Depressionisten & Senor Depressivo
Al Sarah, Wüste im Ozean / Karen Koltermann
virtual itis / nichts ausser Zeichnungen vol.4
grant - a - wish / MathieuDagorn
Meinten Sie Video? / Manfred Kirschner
pico hamburgo
Zone / Peter Boué
Der Himmel kann warten / Edmund Piper
o.T. / Markus Krieger
Budenzauber / Frida Knapp
pole positions/ Jacob, Kernebeck, Michl
Eröffnung der neuen Räume / preview
---
Standort Kastanienallee 86 • 1994 - 2009
MEIN RECHT IST DEIN RECHT AM EIGENEN BILD
NICHTS AUSSER ZEICHNUNGEN VOL.III
tease
stored memories
Zirkus Minimus
Say a body . Where none.
Scheiben
myopic studies
Any someThing
KEIN STEIN
5. Berliner Kunstsalon
versionen ( natur remixed )
"I AM PRINCE JUSSUF"
sommerfest
walden im u.f.o.
genug reicht nicht
mafraktope
CTink
extra lightning
Kartoffelkombinat / tease art fair
status quo
Ikonaiometrika
10 x 10 - > 11
so lang
4. Berliner Kunstsalon
polaroid & psyche
the lazy bunch
pimp your kiez
postrealer Brutalismus #4
Rokoko
Zukunftsnah
Böse Blumen
microwalden
Ich kenn dich noch seit, da warst du so klein.
86 Kastanien
element of passion
beinahalle
im Nahbereich
mu
nutella heißt jetzt Bewag
"der Himmel ist schön,..."
2. Berliner Kunstsalon
centres from the edges
another street in berlin
import transport
Ehrlich sein II
ZENTRAL AM RAND
cut`n paste
flexible Beständigkeit
N.u.F.
I. Berliner Kunstsalon
Nichts außer Zeichnungen
waldesrauschen
border tv: mädchen und tiere
Venus Videos
the return of the thing thinks
friends forever
PAST IMP**FEKT
Ausflug
Arbeitswelt
Depressionismus
trailerpark
stars on cd-r
ereignisdichte: 2,1
BEING ALASKA BOY
Manfred Michl
o.T. ( zu vermieten )
home is where the laser hits
Jubiläumsausstellung
ex cabina
Botschaft der Vereinten Nationen Utopias
Packband
"music of the waifs and strays"
PUNKT UM
Festlegung
Klanginstallationen
Arbeiten
HIGH FIVE
out ( and about )
"music of the waifs and strays"
Neuköllner Abend
HEDGES
1000 Gerichte zwischen 8 u. 15 mark
Z2000
MOODS
gloria
mikrozep
for successful living
das Computer ensemble spielt
Idyllenforsschung
und... was noch
dort wo die meisten Gummistiefel draußen stehen
Wanderer
Eingriffe im Raum
möglich
Skulptur für Idioten
Laula Lintu Laula
ceterum censeo
Ozewizewozewizewallakristalla...
Eigelb, Schweiß und Schuhcreme
Plan Birkenau Stadium
Maasnamen
Dschungelbilder
spring
rauskanten
end l ich
BEWEGUNG NURR
Provinz 3x2
Flirren I-IV
Berliner Weiße
PEKING Chronologie
Öffnungszeiten

Do- Sa 15-19 Uhr
und nach Vereinbarung
Hufelandstraße 35 • 10407 Berlin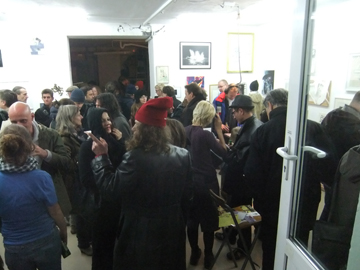 videos on youtube
virtual • itis // egosale // zirkus minimus // panmediale
warten auf rot // roadshots // Jimis Jetlag // einsilbig ist dreisilbig
gegen warten // im Nahbereich // pico hamburgo
Presse
seeancemagazin.de // Hilker // Junge Welt // http://www.art-in-berlin.de // Gita Fuori-Seeancemagazin
•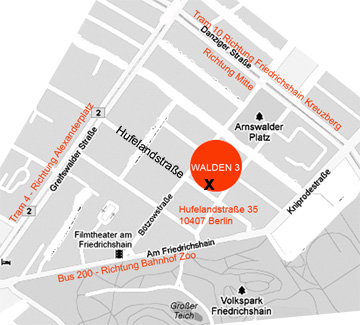 ______________________________________
frühere Standorte des Ausstellungsprojekts / former locations
Potsdamer Straße 91
Kastanienallee 86